Hola! It's Friday again...you now what that means! I'm linking up with
Jeanett over on Life Rearranged
for InstaFriday! A marvelous idea to share with you my mobile pictures from the week! I use Instagram for most--some are just plain ole plain ole! Here we go!
If you checked in
last week
you know we went to Richmond Hill for a total of 24 hours for a family get together. We crammed in as much cousin time as possible!
Cousin bath time in the kitchen sink!
Cousin story time!
Couldn't help but snap a pic of my little niece sleeping!
Cousin time with Uncle Robert/Daddy. Or as Ansiton likes to call him,
"Bob"
Aniston telling Jude how to roll over!
Cousin photo shoot in matching outfits!
Driving back home to the ATL--snapped this pic
of the Ogeechee River. Wish we had time to linger
a little while.
Just another day in the office.
Such a youth ministry baby already.
The hubs surprised me with breakfast in bed...
with my two favorite things!
We said good bye to Grace Ann this week.
It was three glorious summers!
click here for pics!)
We've been rolling over--but as of this week we are rolling over
in our sleep ALL THE TIME....
and we wake up not happy about it!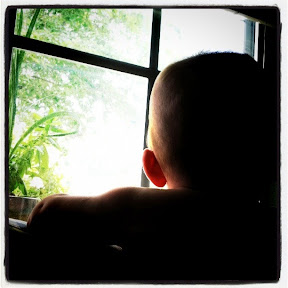 Jude was waiting patiently this morning for Daddy to come home....
isn't he the cutest.
(And he turned 5 months old today!
Can you believe it's been 5 months since that glorious day??
5 month pics coming soon!)
- Posted using BlogPress from my iPhone